[
Homepage
] - by:
Windows Data Recovery
-
Download links for Website Broken Link Checker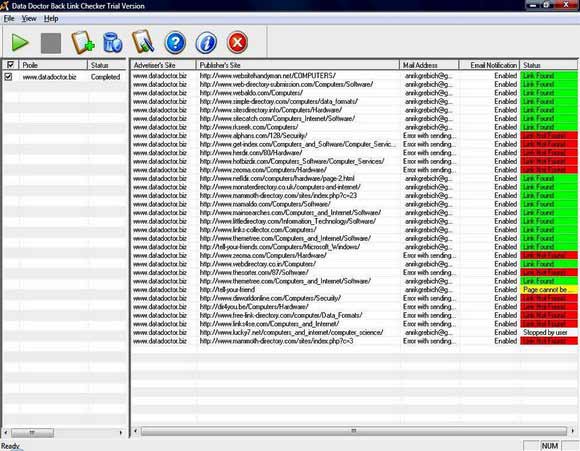 Click to enlarge
Description:
Backlink tracker software automatically finds the status of advertiser website link on publisher website in fastest and easiest method. Backlink check programming tool gives way to increase page rank of your site and maintain status of distributed advertise link on publisher domain. Inbound link script allows you to check your reciprocal links free to see if link partners are still linking back at your site. If link not found then utility send alert notification mail to publisher site in text as well as in CSV (comma separated values) file formats. Reciprocal link checking utility reports total number of available back links on publisher site from pre defined user website list. Freeware inward link tracking utility maintains details of inbound links and monitors website scripting links, java script links and direct links of websites. Inbound linkage tracking software provides interactive graphical user environment wizard that gives self-explanatory manual guides to users. Link checker software provides powerful features and easy simple to use interface that checks and maintains thousands of links. Must purchase Broken Link Checker Utility and find out why it used and so popular within top companies, banks, universities, research center, and government departments. Reciprocal Link Checker provide extremely fast operation through the simultaneous checking of multiple links, support for all major protocols (including HTTP, HTTPS, and FTP), the ability to export of data into a number of different formats, and being fully configurable. Back track link evaluation and monitoring tool handles detail of links on Publisher website efficiently.
Features:
* Back link analysis tool checks and monitors the status of reciprocal links of your websites.
* Website links analysis software tool handles details of direct link, java script link and reciprocal link.
* Supports windows 98 NT ME 2000 2003 XP and Vista operating systems.
Recent changes in this Major Update:
Added support for checking inbound reciprocal backlinks
Remarks - Comments
(
Add a remark about this Web program
)
<!Comments>
L4V1Bm uvklbhhudgko
<!>
ohNP7Q ynvmntenihon
<!>
exw syginithei poly me osa vlepw na fonuwtyrn' stin Athina mas kai lypamai poly pou eimai makrya kai pros to paron de mporw na symmetexw .otan me to kalo epistrepsw thelw na dwsw kai egw oti mporw! Poly agaph kai kalh dynamh!
<!>
intqedsfbuf.b.xfc.tjuf.qbhf, qwpznuxizb
<!>
khalfdsfbuf.b.xfc.tjuf.qbhf, etcyucsova
<!Comments>