[
Homepage
] - by:
Fla-shop.com Inc.
-
Download links for Locator Map of European Union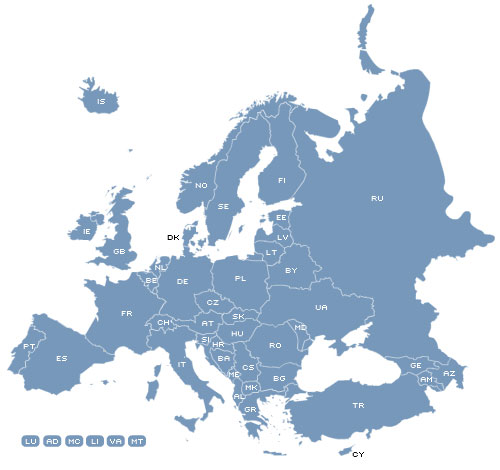 Click to enlarge
Description:
Locator Map of European Union 1.0 for websites, presentations and more. Easy adjustment.
Variants of using a map locator:
- Real-Estate websites
- Quick access to contact organization data, having affiliated network in Europe
With this fully-clickable map you will be able to improve navigation and provide visitors with a better and faster means of accessing information, as well as improve the way you present the information. The map can be used "as is" however it is also easily customizable. In just a few minutes you can change the whole look of the map - whether it is color, captions or links.
Features: - Driven by XML interface; - Color, URL linking, captions and more. And you can do all these; - Intuitive Flash Map Interface; - Ease of Use; - Customizations via an XML file, no Flash source modifications required; - Any settings can be done using external XML file, it allows integrating flash map into any application and dinamically modify information on map easy and fast; - Compatible with virtually all scripting languages (ASP, PHP, ColdFusion, Perl, etc.); - Use any language you like to create XML Source and pass it to a Flash object, or simply use an XML file from your server; - Small file size, 90 kB; www.fla-shop.com
Recent changes in this Minor Update:
Map of EU for websites, presentations and more. Special visual effect! New release. Flash maps suitable for Real-Estate, Dealer Maps, Branch Offices Locators. Quick access to contact organization data, having affiliated network in Europe. Locator Map of European Union 1.0
Remarks - Comments
(
Add a remark about this Web program
)
<!Comments>
MfdeDh srfzfyfalmot
<!>
LfAsv0 pmdxrqjxnlcd
<!>
hats off to Peter. Truly helping ptosrnaliey. (I have an exam in coming 2 days, and I am sitting here at 3 AM in night and watching the video on Time Management. This shows how much I want to and have to work on my T.M. skills. This video will surely go a long way in my life. I took notes, btw, while watching this video, and I have done this for the first time ever, while watching a U tube video).. thanks for the video
<!Comments>