[
Homepage
] - by:
SourceTec Software
-
Download links for Sothink JavaScript Web Scroller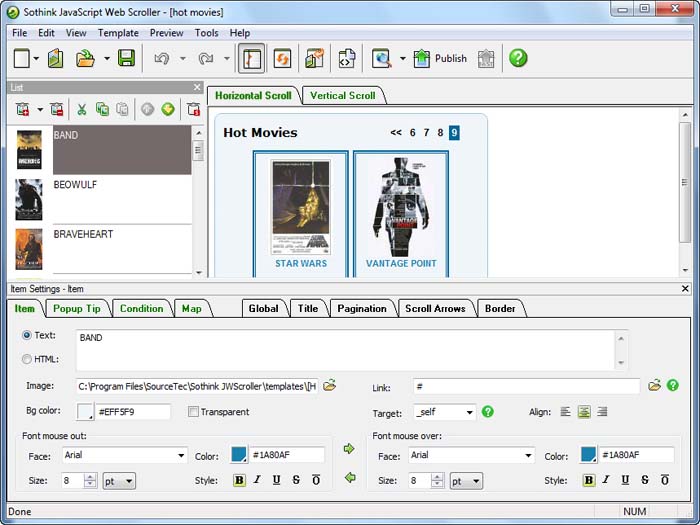 Click to enlarge
Description:
The professional scroller maker creates image scroller/web scroller/text scroller/news scroller/image slideshow for advisement, news and presentations with no JavaScript experience required! The web scrollers are compatible with main-stream browsers, IE 9 included; even compatible with iPad website. Support database-drive scrollers such as ASP, PHP, JSP, etc. It can work as add-ons to seamlessly integrate with Dreamweaver, Expression Web, FrontPage and GoLive.
Sothink JavaScript Web Scroller provides intuitive interface, which modify the scroller easily and preview it in real time. In List panel, you can add, select, delete items, or drag & drop to adjust item order. For quick start scroller, you can build web scroller from built-in templates or apply the image resources from image library; for easy editing, multi-item can be modified at the same time, and copy & paste operation is available to add item or re-arrange their order; for guided publishing, you can follow the publish wizard to publish web scrollers to web page without difficulties.
The web scrollers created by Sothink JavaScript Web Scroller, they can:
• Be pure text scroller, image scroller or a combination of both of them, with no limitations on the number of images.
• Detect the browser's window size and auto-fit the window when its width value is set as percent.
• Loop image scroller for endless times
• Auto-scroll items or click arrow/number to forward next item
• Pre-load all image to reduce download time
• Co-exist multi-scroll within one page
• Insert one web scroller to multi-page
With Sothink JavaScript Web Scroller, you can fully customize web scroller:
• Full customization to scroller elements, including images, text, font, backgrounds, colors, links, alignment, spacing, padding, etc.
• Title, pagination, popup tips and scroll arrows are four optional parts, which you can choose freely as you like
• Support setting width at percent in iPad slideshow to perform wel
Recent changes in this Minor Update:
Update the Digital Signature
Remarks - Comments
(
Add a remark about this Web program
)
<!Comments><!Comments>